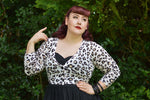 I got very excited recently when I saw that MAK sweater had released a leopard print version of their cropped cardigan, my absolute favourite cardigan. And when I say it's my favourite cardigan, I need you to really understand the depth of love I have for this piece–as in, I own at least 35 of the colours it comes in. Yes, seriously.
I am almost always wearing one of these cardigans when I dress vintage, not just because England is usually a bit chilly and because they're the perfect waist-flattering length, but also because I just love that it allows me to layer in additional colour to my outfits, whether complimentary, monochrome, or even clashing.
Considering I own so many of the plain colours, the one thing I've been hoping is that they would begin to produce patterns and prints, so this leopard print addition was a delightful discovery. It was even more of a delightful discovery to be told by a loved one they had ordered both colours for me as a late birthday present, along with two of the other styles I had mentioned previously as being styles I was curious to try.
So with much knitted happiness, I'm going to do a mini-haul review of each piece for you below, and I'm thrilled to tell you that since MAK recently asked me to become one of their brand ambassadors I have an affiliate discount code that will save you 40% off any order (including sale.) Use code Amy-yemak-005 at checkout on Yemaksweater.com to save pennies and pick up some pretties!
Now, on with the reviews.
THE LEOPARD PRINT CARDIGANS – CO129LEO
A side-by-side comparison of the subtle difference between the Ivory/Grey  (L) and Ivory/Taupe (R) versions
.
The new Leopard Print is available in both this cropped cardigan style and the standard length style. Both lengths are available in two colours, an Ivory/Taupe combo and an Ivory/Grey. The difference between the colours of the spots is noticeable side-by-side but it's not so drastic that I think it's worth dwelling endlessly over if you've only got the budget for one of the colours. 
Layering this cardigan over my many plain coloured dresses will give me a new way to make those dresses pop, and I hope this cardigan does well enough that MAK Sweater create more patterned options in future. I would love to see polka dots, any tartans and plaids, as well as small, abstract contrasting floral prints in this cardigan style.
The cardigan itself is exactly the same in quality and design as all of MAK's plain coloured cropped cardigans. It features a 3/4 length sleeve, a V-neckline and 3 buttons to close in the centre. It's made from a fine and very soft stretch knit. Said knit is so stretchy that I've only ever worn this cardigan in the size L, even though I've fluctuated between 3 different dress sizes while continuing to wear these same cardigans. That stretch also means they're fully comfortable at the shoulder seams, something that's really important for those of us with large upper arms and/or wide shoulders because seams that feel tight in the armpit can be super uncomfortable worn throughout the day.
As mentioned, I wear my cropped cardigans in an L. My bust measurement technically puts me above the size L but since I know my larges have continued to fit over the years I've never sized up in this style. If you haven't bought one before I would recommend consulting their size chart, but the likelihood is that due to the stretch you can probably buy whatever size you typically fall into when shopping letter sizes in ladies clothing.
This Leopard print cardigan is available in sizes S-XL but all their plain coloured cropped pinup cardigans (CO1219) come in sizes S-4X in 46 colours.
Pattern Cropped Cardigan – MK3514 (PL)
The name of this cardigan isn't entirely accurate, as the pattern mentioned is in the textured weave of the knit, not a pattern in a printed sense. This knit type is actually known as a waffle knit or a honeycomb knit, a knitting style that makes me immediately think of the colder months and layering up snugly.
This cardigan is a cropped style compared to the standard length cardigans you typically find offered most by non-vintage brands, but it's not as short as their fine knit pinup cropped cardigans are, as these pictures demonstrate. I find that when worn open it appears to fall to a longer length than it truly is, but when worn buttoned it sits at the waist. It has 3/4 length sleeves and a rounded neckline, closing with 6 matching plastic buttons down the centre.
Waffle knits often have less give than the kind of fine knit used in their other cropped cardigans so I'm wearing an XL in this style, which works well. It is a slightly looser fit than the snug nature of the plain/leopard cropped cardigans, but that works really well for layering in winter. I love the richness of this Bronze shade and would love to snap up the Sage, Honey and Dusky Orange shades in future.
Available in sizes S-3X and in 22 colours. 
Classic Collared Pullover Sweater – MK3591
The sweater's full length
The collared sweaters aren't a brand new style, as they've been available for at least a year, but a lot of the colours are currently included in MAK's blow out sale section so if you've ever been tempted to try one then now's the time. (Using my discount code means they only cost $9.90 each!) It comes in 10 plain colour combinations and 7 polka dot colourways, all in sizes S-L. As they're made from the same fine knit as the cropped cardigans, though, there's tons of stretch in the material, enough that even the size L I'm wearing above accommodated my 46 inch bust without strain or any visible sheerness appearing in the fabric.
The obvious comfort of that stretch aside, another bonus is that this sweater also works for a great staple piece in your wardrobe. The high-neck collar makes it a modest style that works brilliantly for the workplace, while the contrast of the collar against the different colour of the sweater's main shade is eye-catching. It's soft, easy to wear all day, and can even be layered under jackets or more knitwear for the colder months.
Overall I'm pleased as punch with my new pieces and, as mentioned, I'll be eager to keep adding to my already-vast MAK collection with even more colours. Fingers crossed there'll be other prints available in future as well!
Outfit details:
____________________________________________________
[Disclaimer: MAK Sweater have gifted me items in the past both for honest review and as courtesy gifts with no obligation to be featured. I am now a brand ambassador which means I can offer you my personalised discount code to save money on your orders, but I will receive a small commission payment as an affiliate when that code is used. All opinions expressed by me in all my reviews are my own and wholly truthful, with no input from any companies or any other individuals.]