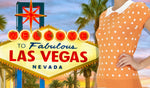 For a lot of people, Vegas is the only destination for those that like to gamble, watch fantastic live shows and take in the party life before groggily heading back to work on Monday. But that vintage Vegas charm a lot of us still admire, that charm from the 50s and 60s, continues to be alive and well for vintage-lovers longing to experience Vegas' heyday. Here is a list of some of our favorite spots, and accompanying wardrobe options, you might enjoy as well!
#1. A classic collar short sleeve for this classic restaurant
While your pals are waiting in long reservation lines for the newest trendy hotel restaurants, head over to the Golden Steer (originally opened in 1958) to taste the fine dining Frank Sinatra himself approved of. As if Sinatra wasn't enough, Joe DiMaggio, Muhammad Ali, and Elvis were frequent customers at this Las Vegas staple. 
We recommend the polkadot pullover for this experience, which comes in a variety of fun colors.
#2. Enter a new dimension with a classic black pullover
Once you've had your fill of the King of Rock 'n Roll's favorite meal, it's time to work it off with quite possibly the coolest minigolf theme ever: The Twilight Zone. Based off of the legendary sci-fi television series created by Rod Serling, originally premiering in 1959, Monster Mini Golf created the attraction featuring larger than life recreations of classic Zone characters from episodes like "Living Doll", "Do the Aliens Look like aliens?" and "Nick of Time". 
We recommend the black slim fit pullover sweater to really blend into the eerie atmosphere.
#3. Mix up your wardrobe for some mixed cocktails
Established as one of Las Vegas's coolest cocktail bars, the Velveteen Rabbit serves up the old favorites as well as some original creations while you listen to throwback tunes on vinyl (of course!). Thrillist says, "a dark, whimsical bar & lounge decorated with unique Victorian-styled furniture (from Vegas!), and serving up serious cocktails and nice craft beers. Hey ladies. There are no TVs, and a variety of small nooks are meant to ignite conversation." You'll feel like you've died and gone back to cocktail heaven as the sun sets over the infamous Vegas strip.
We recommend the pattern cropped daily cardigan for your cocktail hour needs.
#4. A vintage look for vintage take-home goodies
Don't let the name fool you, Mantiques is a one-stop-shop for all things vintage, and not just for men either. The store's website says, "includes neon signs, vintage signage, old time radios, and phonographs. Mission style benches, original pin-up art, stained glass, steamer trunks, and Chinese Foo dogs are all on display and ready for sale to the discerning collector." You'll prefer buying a keepsake from this store rather than something from one of the many Vegas souvenir shops since most of Mantiques items are extremely hard to find (but extremely affordable as well).
We recommend this stretchy fabric classic pullover while looking for goodies.
Of course, Las Vegas is filled with many hidden gems within the cities overlooked nooks. All it takes is a little digging and some fresh clothes to take you there! Book your summer trip to Vegas today and make sure to visit YeMak's catalogue for cute and affordable vintage-esque clothing.