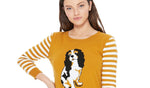 We love our puppies and kitties so much, it can be so tough to leave them at home in order for us to go about our daily routines, head into work, or run errands, which is why we wanted to provide some fun pullover sweater designs to our animal-loving customers. Absence and pullovers with cute furry pets on them makes the heart grow fonder, right? Think of these sweaters as emotional support clothes during your busy day while your little ones await your return.
1. The King Spaniel Crewneck
You'll get to work this sweater in the summer and the fall with its rich camel color and lightweight texture. The front illustrates an embroidered (and super adorable) Cavalier King Charles Spaniel awaiting their owner to dish a snack or two. Our favorite part of this crewneck is the complimentary white stripe pattern along the sleeves giving it that trendy, slimming feel. This is one of our absolute best-loved products and couldn't recommend it more to our puppy loving customers. 
Lucky for you, this crewneck is on sale for $22.00 (originally $44.00) Use those extra funds for surprise pet toys!
2. Poodle Love Casual Pullover
Can you feel the puppy love tonight? With an embroidered poodle/heart combo, this oatmeal pullover will keep you feeling fresh and clean throughout the week. Frankly, you'll feel like you're wearing nothing since this sweater is so lightweight and soft, keeping you feeling cool during the remaining summer days. However, we do warn you that this sweater will leave you yearning for the weekend so you can take your pooch to the dog park. Adorbs!
This sweater is also on sale directly from our site for $22.00 (originally $44.00).
Bonus points: Dog hair won't show up as easily!
3. Cat Tea Cup Short Sleeves Pullover
You'll be ready to cozy up on the couch with a cup of chamomile, a good book, and your kitty with this comfy pullover from YeMak. This style comes in black and ivory or black and red, both presented with casual-professional collars. A perfect short sleeve top that can be worn at the workplace or after-hours fun. Tailored to fit with an embroidered design (not printed) you'll turn heads and break hearts when people know your first love is your kitty. 
And guess what! This short sleeves pullover is on sale for $19.50 (originally $39.00)!
"Animals are such agreeable friends - they ask no questions; they pass no criticisms."
Check out YeMak's other fun sweaters, cardigans, pullovers, long sleeves, short sleeves, and more at YeMakSweater. And if you plan on buying any one of the pullovers featured in this blog, please hand wash the items in cold water with like colors.