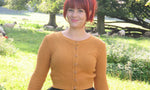 If you had to ask me what my staple item of clothing is, I'd have to say a good cardigan; which might explain why my wardrobe is currently bulging with approximately 30 of them.

If you love cardigans like I love cardigans, chances are you'll already know about Mak. It's likely that you'll know them for their highly regarded crop cardigans that have taken the pin up scene by storm. And it's not without good reason.

They really are the perfect knitwear. Mak produce a huge variety of knitwear options; so it's highly unlikely that you won't find something to suit. Introducing (part of) my Mak collection….


My personal favourite, when teamed with a dress, is the aforementioned crop cardigan. Featuring a deep V neck and button up fastenings and available in a plethora of colours, it really is the perfect solution.

The three quarter length sleeves owe themselves perfectly to the warmer months, making them a great option when jackets or coats aren't required. I equally adore the waist length, full sleeved version, featuring a round neck. These are fabulous for tucking in to skirts in place of a top or jumper.
My hands down favourite is the round neck, mustard waffle (or lace) knit. If you follow my Instagram you may have noticed I wear it A LOT.

I had been searching for a mustard cardigan for far too long and this landed with me at the perfect time! My only reservation about this cardigan is that my clumsiness has resulted in two different pulls to the knit already.
Though that perhaps says more about me than the cardigan!


All of the cardigans featured in this post are a size Small. As a UK dress size 10, I'd generally say that they fit really well, though on some of the crops I wonder whether I should have sized up, owing to slight pulling at the buttons.

Despite this, I tend to prefer a more snug fit from my cardigans anyway and would tend to wear a crop number unbuttoned, so it's not much of an issue.