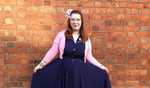 You know when you find a piece of clothing you Love that you just wear them until they're falling apart? Well, that's me with Mak Sweater cropped cardigans! They're my ultimate favorite cropped cardigan brand by far! 
A few years back I purchased my very first one from Pinup Girl Clothing not knowing it was in fact made by Mak, I literally wore it until it looked rather worse for wear.
After realizing I couldn't live without it I decided to buy a couple more but this time from a UK based online store - Campbell Crafts. I was SO happy when they started stocking them as it meant I didn't have to worry about fricking custom charges!! WooHoo!!

I decided to put together a few photos that I'd previously taken for my Instagram page showing most of my cropped cardigan collection. I don't have all the colors but I'm getting there! 
Now onto the sizing - I find its pretty much spot on with sizing and order a medium for my 40'' bust. They do have some stretch in them so all depends on your desired fit.
I prefer mine to be fitted as I always have mine buttoned up.
They also wash really well and don't fall apart like most cardigans you can by from the high street. I found these actually last and like I'd previously said, my first one lasted me over 2 years!



These are perfect for keeping you warm during the cooler months without covering too much of your outfit.
The scooped neckline, 3/4 length sleeves plus neat buttons down the front make them simple but effective. They are cut to bring in your waist so you don't lose your shape which is what I'm always on the lookout for.


What are your favorite cardigan brands? I'd love to know!  
Lulu's wonderland
http://www.luluslittlewonderland.com/2017/10/the-best-cropped-cardigans-mak-sweater.html