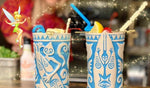 1. Disneyland's Speakeasy; Club 33
Club 33 is perhaps Disneyland's best-kept secret. In fact, some people often walk by the Club's entrance without even realizing it's there. Disneyland makes sure to keep this little gem tucked away off the main visitor path near its New Orleans Square but it's not hard to spot once you know what you're looking for. The front door has "33" on one side of its framing and is nestled right across from the La Mascarade d'Orleans shop.
Source: Orangesmile.com
Unfortunately, this isn't the type of speakeasy that simply requires a password in order to gain entrance. Walt Disney himself knew better than to make it that easy. First, you have to write to Disneyland headquarters requesting to join the elite members-only club. Second, there are membership dues up to $11,000 a year, not to mention the waiting list that sometimes takes 10 years to get on. So why the heck are you telling us about this place, right? Lucky for those of us on a budget, there's a loophole in the membership for non-members. Anyone that is a member of Club 33 may bring a guest to enjoy everything the club has to offer, including a full menu and full bar. Each Gold Level Member is allowed 50 complimentary passes per year which may be given to their guests, such guests are not required to dine within the club. Upon utilizing the 50 passes, members may arrange for their guests who will be dining at the club to purchase park tickets with a discount of 20%.
Source: Businessinsider.com.au
However, if you are one of the lucky people to have a pal that is a 33 Club member, there is a dress code since the whole operation is so elite. We recommend the Women's V-Neck Button Down Knit Cardigan Sweater to really blend into the club's classy vintage decor.
2. Boozy Dole Whips
The delicious treat that is the infamous Dole Whip has become a Disneyland (and Instagram) staple. If you're at the park, you know you gotta get a photo holding that tasty cold dessert. But if you're in the mood to give that Whip a little extra oomph (we're talking about rum, people) you can have that wish granted without the aid of Will Smith (or Robin Williams for you die-hards). Unfortunately, alcohol is not sold, per Walt Disney's wishes, within the park to visitors and this treat is not actually available in Downtown Disney either. So where the heck can we get a strongly flavored Dole Whip? Hidden away by the Disneyland Hotel is The Coffee Shop, where patrons can purchase cookies, coffee, and that rum-fueled Dole Whip. Unlike Club 33's secrecy, The Coffee Shop places the option right there on the menu for anyone to find.
Source: EasyWDW
The Coffee Shop is located next to The Disney Store, right by the Disneyland Hotel pool, and you don't have to be staying at the hotel to enjoy the rum-filled Dole Whip. Anyone can park at Downtown Disney, walk to the Coffee Shop and receive that vacation feel without paying full price for it. Good times!
Source: Twitter @DisneylandToday
If you're heading out for that tasty Dole Whip, we recommend color coordinating with our yellow Daisy Embroidered Sweater Pullover!
3. A Tiki Getaway at Trader Sam's
Easily one of our favorite places when visiting the park and it's not even located on the Disneyland grounds. Much like The Coffee Shop where you can find rummy yummy Dole Whips, the Trader Sam's Enchanted Tiki Bar is located in the middle of the Disneyland Hotel complex right next to their lavish pool. They have a full bar, but their tiki drinks are why visitors keep coming back for more. The Shrunken Zombie Head and the Pirahna Pool are just a few of their titled drinks and each comes in a signature tiki glass that you can actually purchase!
Source: Undercover Tourist
The decor is something straight out of Peter Pan, with the interior feeling like you're in a Neverland-style hut on an island far, far away. Sometimes there's even a rainstorm that comes through, turning the window view overlooking a fake island exterior into a thunderstorm for just a few seconds. Okay, this place is pretty cool for kids too, but it's the drinks that adults will especially love.
To really go for that island vacation feel at Trader Sam's, we recommend wearing our cap sleeve cropped crewneck cardigan sweater so you can get those breezy ocean vibes.
4. The Star Wars: Galaxy's Edge Cantina
After you've conquered the Magic Kingdom, it's time to conquer the rest of the galaxy. Oga's Cantina will surely be a hit with kids but thanks to their menu, parents can have a little extra fun while you try to dodge Darth Vader's lightsaber.
source: Disneyland.Disney.Go
Disneyland's site writes: As you plan your next smuggling run, please enjoy some bold musical entertainment courtesy of droid DJ R-3X, a former Starspeeder 3000 pilot. The cantina adheres to proprietor Oga Garra's strict code of conduct, but patrons can be… unpredictable, so just keep your head down—and drink casual.
Their alcoholic drinks include galactic titles such as Bespin Fizz, Bloody Rancor, Dagobah Slug Slinger, Fuzzy Tauntaun and more!
Source: D23.com
Of course, when you visit the Oga Cantina, you're either on the dark side or the light side. Since most of us here at YeMak love a good dark side, we recommend the daily light weighted slim-fit pullover sweater. It's perfect for those long walks through the Disneyland park on those sunny southern California days.
Visit yemaksweater.com for more fun wardrobe options!